Orange County Animal Removal & Control | Raccoon, Skunk, Opossum, and Rodents
Orange County Animal & Wildlife Removal Services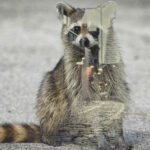 Humane Animal Removal
Every job includes a Full Inspection of your property, followed by Humane Animal Removal Services that fit your specific situation.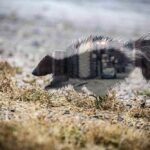 Wildlife Prevention Services
We can help with protecting your property against wildlife invaders. We use the latest techniques available & do all this at a great cost too.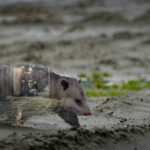 Animal Waste – Attic Clean Up
Our professionals can clean up & sanitize all animal poop in your attic or crawlspace. Need new insulation? We can do that too. This saves you time & money.
Our Animal Removal & Clean up Services
We are nuisance wildlife removal & control professionals. Licensed by California Department of Fish and Wildlife. We work hard and go far beyond normal animal control services. We identify the main root of the problem and provide a humane solution to the critter problems. There are no free animal control or animal removal services. Below is a list of animal removal and wildlife management services we offer.
Animal Identification (Unknown Noises or Scratches)
Private Property Services
Commercial Property Services

Clean up Animal Entryways

Spot Possible hazards

Replace/ Fix broken screening

Animal-proofing services are also offered

Pickup of dead Pet and unwanted Pet.

Same day service, or next day & every day of the year offered
Here at Urban Wildlife Trapping Experts, our professionally trained wildlife control specialist can capture wildlife, remove wildlife, exclusion of wildlife, repair wildlife damages, cleanup of wild animal poop, wildlife prevention, dead animal removal and fully restore your attic and crawlspace. We also offer bat & bird control services. Wildlife Removal Service Area's: Los Angeles County, Orange County, San Bernardino County, and Riverside County.
Call Us Today For Wildlife Removal Services
Toll-Free 1-844-698-7277
Nuisance Wildlife
Wildlife are usually labeled as a nuisance, but due to their destruction and presence on private properties, the most common complaints include the following:
Animal digging up the yard
Animal rolling back the sod and grass
Animal in the attic
Animal under the house
Animal in the chimney
Animal tearing holes through vents and roof
Animal tipping over garbage cans
Wildlife stealing pet food or bird seed
Wildlife entering through pets door
Dead animal in the attic or crawlspace
Wildlife's presence alarming dogs/pets
Sick, potentially rabid animals
When this happens, many people wish to have the nuisance animal trapped and removed by a professional wildlife trapping and removal company. Urban Wildlife Trapping Experts is the company for your wildlife removal! We know how to get rid of pesky wildlife from your yard, crawlspace or attic. Your urban wildlife technician will take care of wild animals that damage your home and property, threaten you, your children and your pets, but will also bring disease and parasites into your home, such as: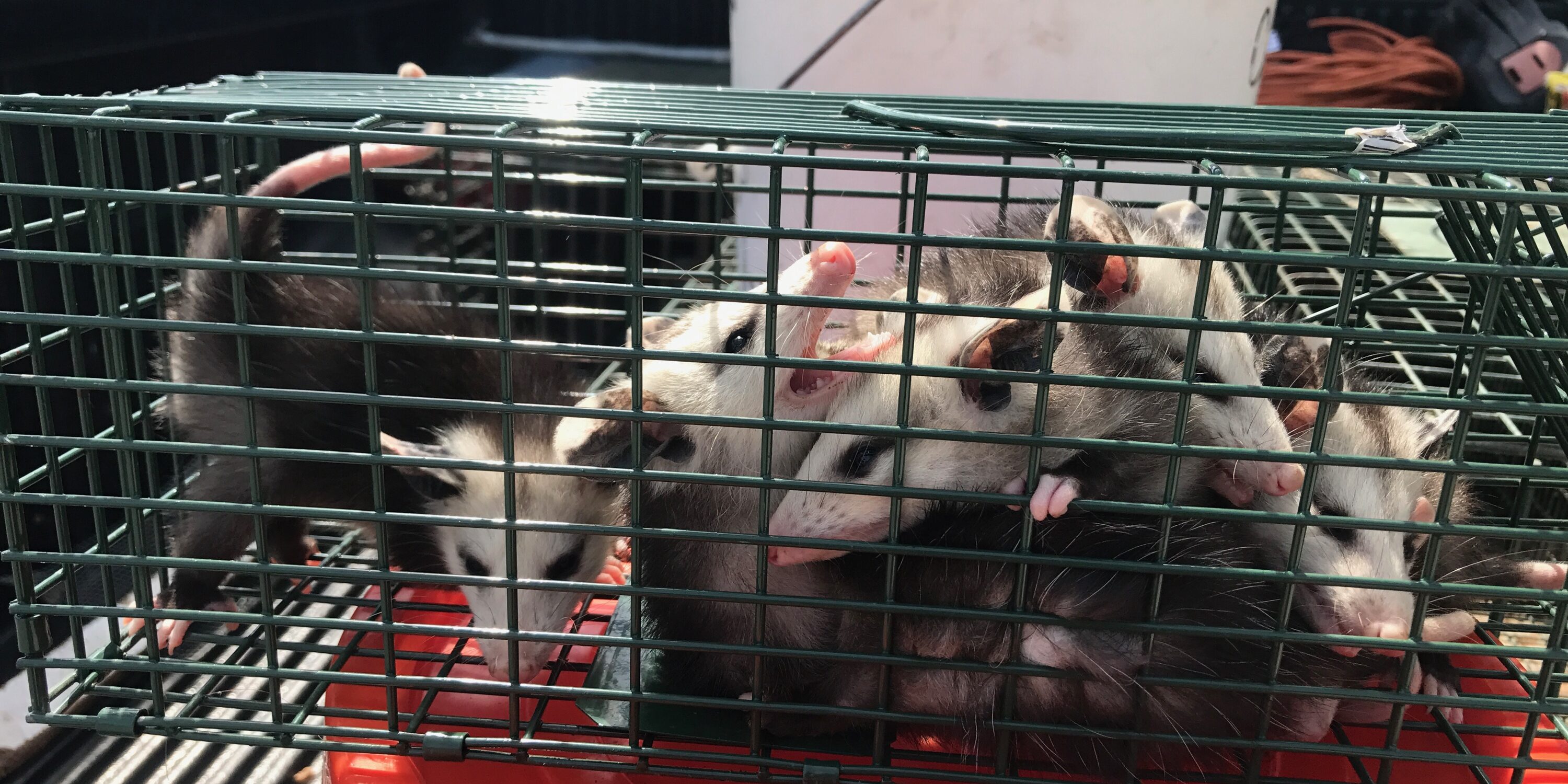 Urban Wildlife Trapping Experts always uses humane wildlife trapping for customers in need of wildlife removal. Our professionals will come to your home or business and start with a thorough inspection. When it comes to wildlife removal, we identify where the animals are entering the structure home or building. Whether it's animals in your attic, animals tearing up your garden, and animals under your house. It doesn't matter. We handle all wildlife situations. Our wildlife experts usually set up 1-3 humane traps to catch the animals. We will leave the traps for a reasonable amount of time. Once the animals have been trapped and removal humanely, Our experts can then seal up any opening or clean up any animal waste left behind if needed. We service all cities for humane animal trapping. – Call Us For Humane Animal Trapping & Removal – 1-844-698-7277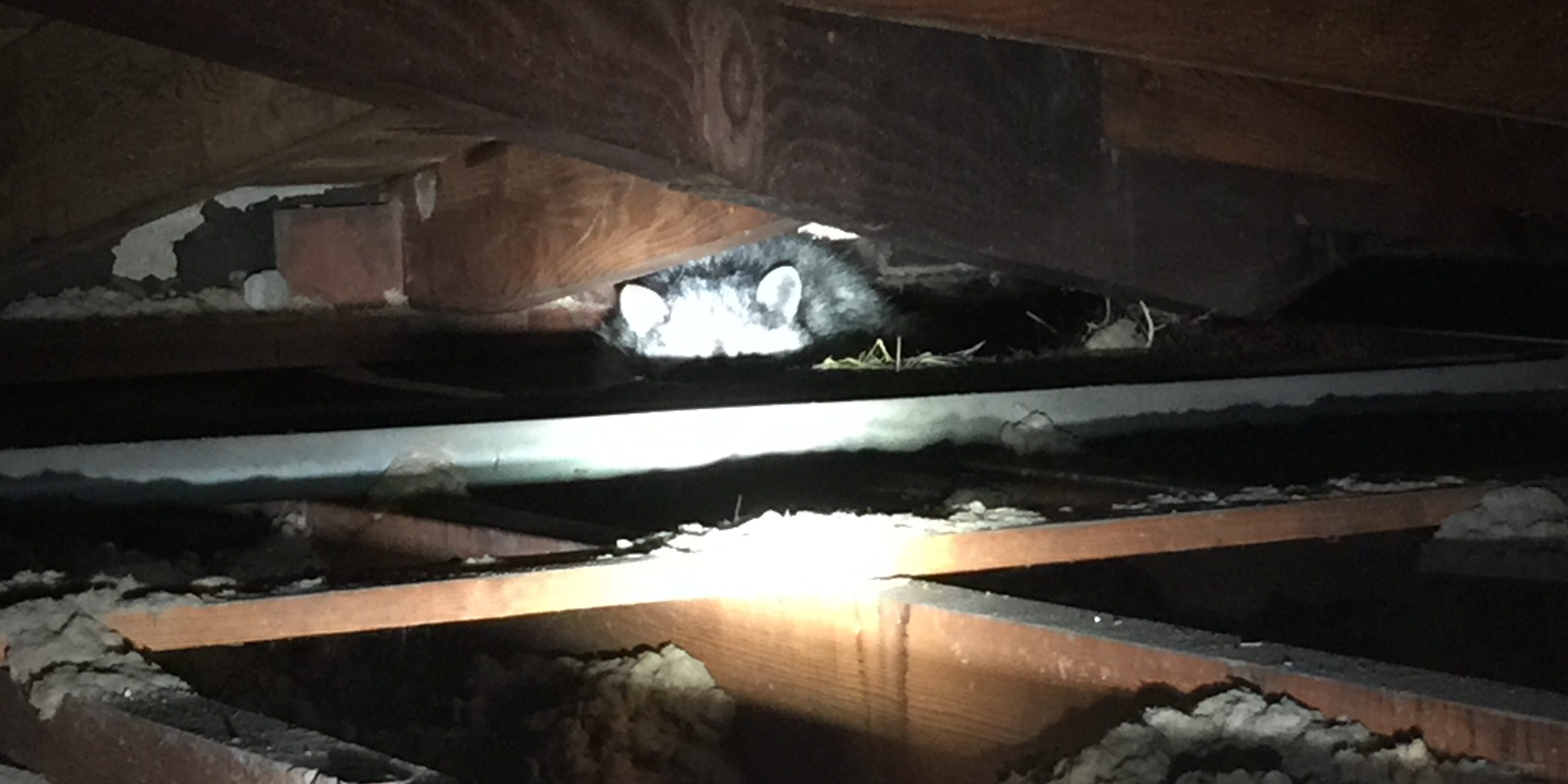 Are you considering removing or trapping the animal yourself? THINK AGAIN! You could be putting you and your family in scary situation way. California Wild Animals are not safe to remove on your own OR sending your family to handle the situation. Our seasoned professionals work in a safe and cautious manner to ensure that no one is harmed in the process, including the animals. Our traps are effective and humane. Our careful planning and preparation means, we'll remove the animal as quickly as possible.
Testimonials
"I was going crazy with tree rats in my attic and Urban Wildlife saved me! They really know what they are doing, they plugged up all the holes where the rats got in, and trapped the rats. They also captured a possum hiding in my garden. They really are the best company, and nice to deal with, too!"– Carla Johnson
"Had a total of three Skunks removed by urban wildlife. The first one had actually gotten into the crawl space under my home. The Skunks were trapped and removed in a timely and more importantly in a humane manor. I would not hesitate to use this company in the future.
Thank you Urban Wildlife!"– Carlos Iberri
"Excellent and professional service and very responsive. Removed skunks from my property on a number of occasions. Highly recommend."– Bob Marsocci
"Our tenants reported a bad smell coming from under the building. We called Urban Wildlife and they were there the same day, crawled under the building and found a dead animal. They removed it and cleaned up the open holes around our foundation. Problem solved! Second time I've used these guys and they are great!"- Amber Tarshis
Schedule a Consultation Now!
Call Us Today For Wildlife Removal Services
Toll-Free 1-844-698-7277
Phone: 1-844-698-7277
Email: [email protected]
Phone Line Hours 
Sunday 6:00 am–10:00 pm
Monday 6:00 am–10:00 pm
Tuesday 6:00 am–10:00 pm
Wednesday 6:00 am–10:00 pm
Thursday 6:00 am–10:00 pm
Friday 6:00 am–10:00 pm
Saturday 6:00 am–10:00 pm
Field Operation Hours 
Sunday 7:00 am–6:00 pm
Monday 7:00 am–6:00 pm
Tuesday 7:00 am–6:00 pm
Wednesday 7:00 am–6:00 pm
Thursday 7:00 am–6:00 pm
Friday 7:00 am–6:00 pm
Saturday 7:00 am–6:00 pm
Our Services
We can remove all wild animals from your home or business location. Our process is always safe, humane, and nontoxic animal removal. Our trained wildlife technicians use a professional process to remove and secure your home or office from nuisances wildlife today and in the future.
It starts with your phone call and we will thoroughly listen to your wildlife problem. Every situation is different, so we will ask appropriate questions to help us understand the situation better. Questions like, "do you hear the noises at night or during the daytime?" or "what type of roof do you have?" After we have an overall idea of your wildlife problems, we can provide a rough price range, and schedule a same-day or next-day appointment to inspect your property.
Find Us
Contact Us